February 8 @ 7:00 pm

-

8:30 pm

€35
Changing The Light With Séamus O'Connell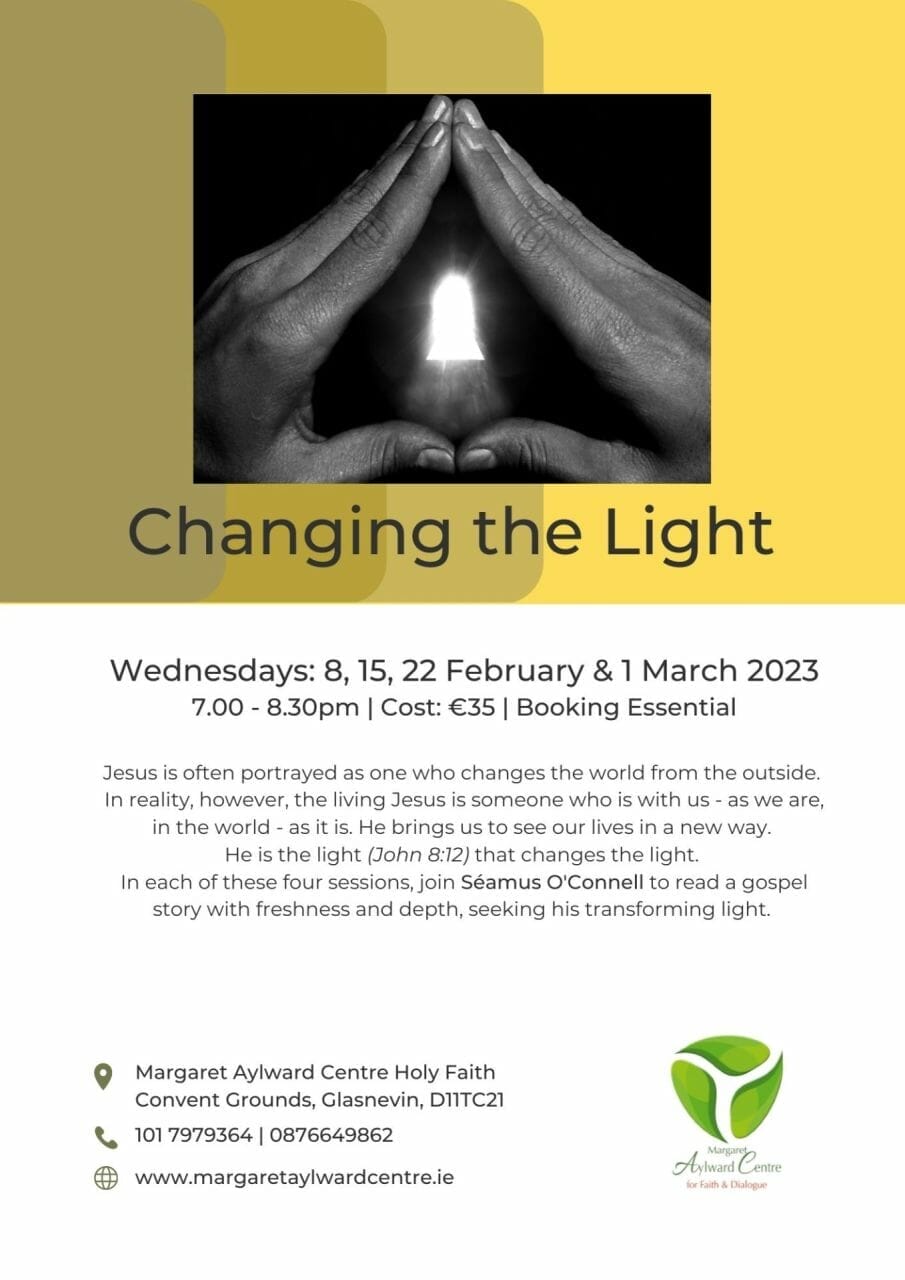 Frequently, Jesus and his good news are presented as something new, something from outside and beyond. While this is certainly true, its truth hides what could be considered a deeper truth: that what really makes a difference in our lives are the changes of perception and perspective that flow from what happens to us in our lives: what we come to feel, what people say to us, what we begin to understand. 'I never saw it that way before,' we say; 'I never looked at it like that.'
In his encounters with people, Jesus frequently brings them to see things in a new way: "What is written in the Law? What do you read there?" he says to the Lawyer in the Gospel of Luke (10:26). The conversation which follows brings the Lawyer – and us -to another way of looking at the strangers who sometimes disrupt our carefully-plotted days, and lives. Jesus 'changes the light'  – to borrow a phrase from the Cork poet, Bernard O'Donoghue,
These four 90-minute sessions are four meetings with the living Jesus of the gospels: the Jesus who is, the Lord who speaks, the one who surprises us, God-with-us as Saint Matthew calls him (Matt 1:23). He has things to say to us about what really matters, about how we might respond to the setbacks, surprises, disappointments, and disasters in our lives. He may also be concerned about what might bring us peace and rest, what might lift our burdens, what might help us heal and grow, what might give us hope.
While miracles certainly happen, most enduring change is slow and, initially at least, hard to see. In the hope of such slow and enduring change, each of these four sessions will read a gospel story, listen, and explore what changing light it might cast upon our lives and our world. The emphasis is on reading deeply, looking afresh, listening anew—even into the silence, 'the language of God,' in the words of St John of the Cross. There will be no demands, no lessons, no messages, but much space, respect, and seeking of the doorway to wonder.
---
Each of the sessions will be guided by Séamus O'Connell. Séamus is a priest of the Diocese of Kerry who currently teaches Sacred Scripture at the Pontifical University in Maynooth. Ordained in 1982, he has a particular interest how the gospels speak to ordinary people in the complex, and not always straightforward world of today.