May 12, 2022 @ 7:30 pm

-

8:30 pm

€15
May Musings – Sister of Faith for Peace: Mary in Islam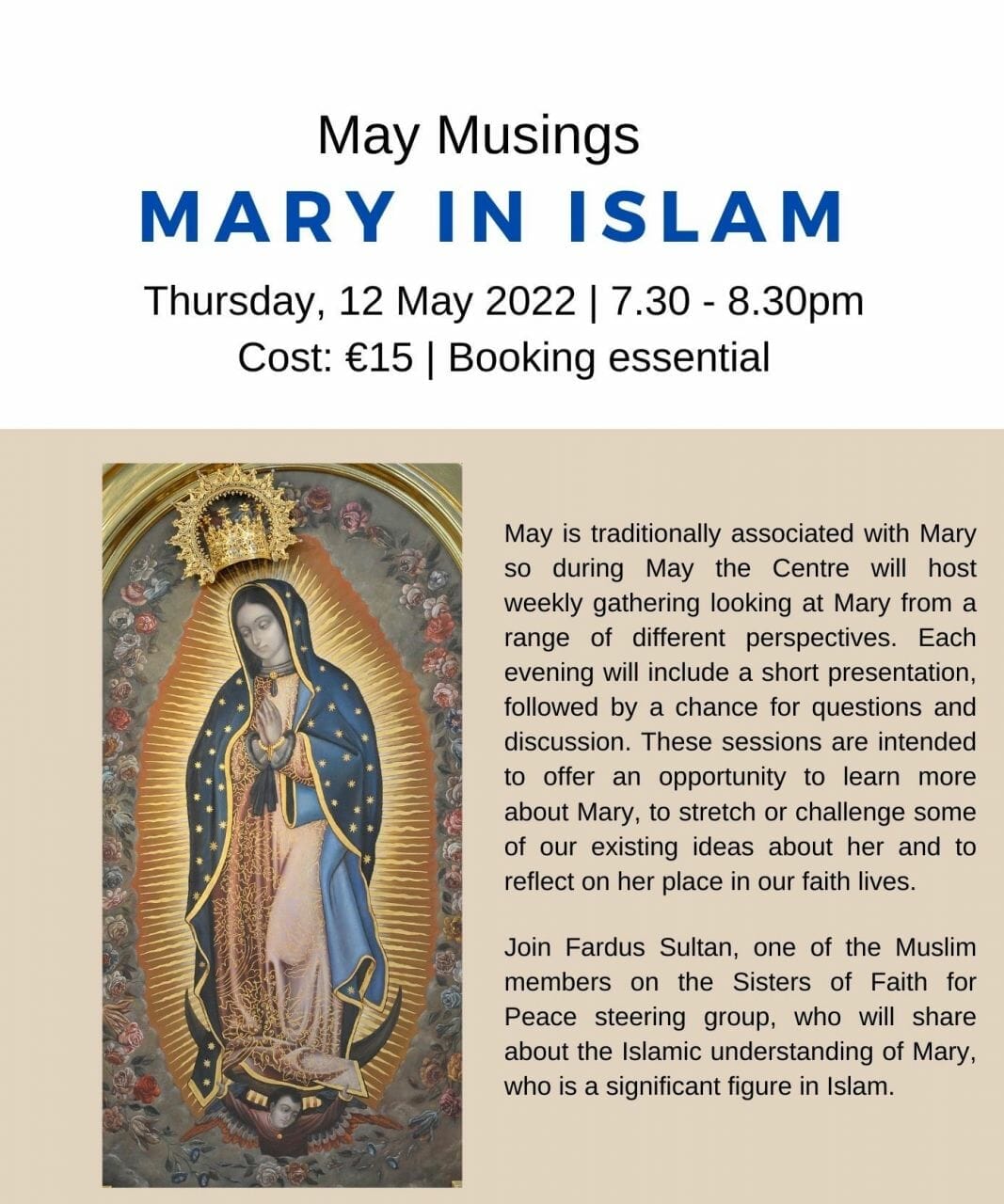 May is traditionally associated with Mary so during May the Centre will host weekly gathering looking at Mary from a range of different perspectives. Each evening will include a short presentation, followed by a chance for questions and discussion. These sessions are intended to offer an opportunity to learn more about Mary, to stretch or challenge some of our existing ideas about her and to reflect on her place in our faith lives.
---
Join Fardus Sultan, one of the Muslim members on the Sisters of Faith for Peace steering group, who will share about the Islamic understanding of Mary, who is a significant figure in Islam.
---
About the Sisters of Faith for Peace:
We are Women of Faiths, primarily focussing on the 3 Abrahamic Faiths of Islam, Judaism and Christianity, coming together to work for the common purpose of peace believing that we are all created by God .
We are proud to have the wife of current President of Ireland Michael D.Higgins, Sabina Higgins, as our Patron and supporter.
Our focus is creating a social platform to build bridges and with our activities, we are sending a message of respect, cooperation, and human dignity across the divides of the different beliefs and

stere

otypes,

this being the starting point for peace and reconciliation. 
The signature events of the SFP is hosting events in each others places of worship – Mosques, Synagogues and Churches; but we also held conferences to raise awareness and together supported charity work.
Just like in a family, you have different types of personalities, but we still belong together and can respect each other in spite of our differences.