September 9 @ 9:30 am

-

3:30 pm

€35
This is Balm for the Soul – With Maria Garvey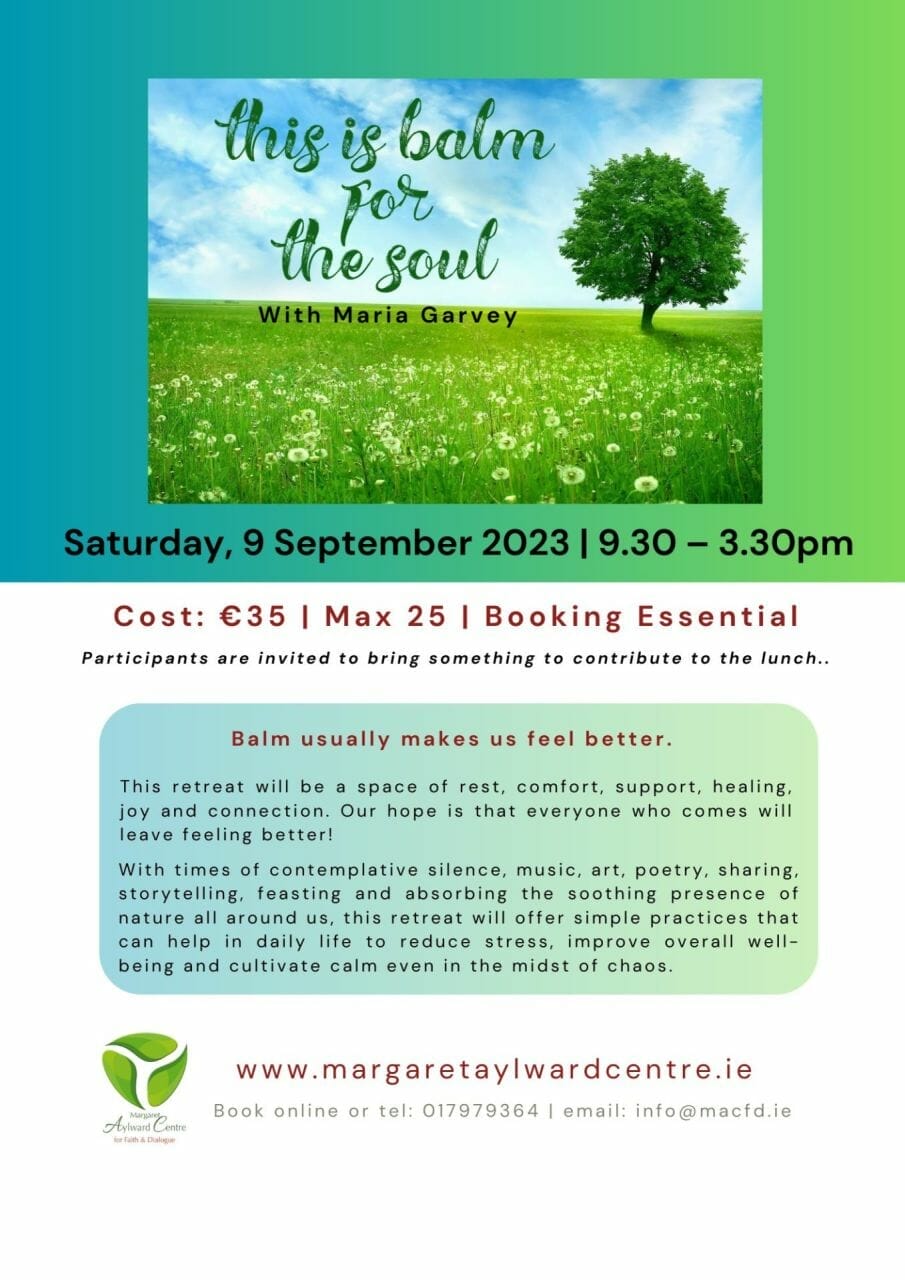 Participants are invited to bring something to contribute to the "feast".
Balm usually makes us feel better.
In these demanding and uncertain times, this retreat will be a space of rest, comfort, support, healing, joy and connection. Our hope is that everyone who comes will leave feeling better!
Do you ever have times when it's as if you're living on automatic pilot, numbly dragging yourself through your days almost as if you were sleep walking through your life?
Do your ever wonder if you've forgotten who you are when you're not what you do?
Do you ever long to step off the conveyor belt just for a moment to listen for what your soul is craving?
Do you ever just want life to slow down or stop so that you can just rest for a while with nothing to do and nowhere to be?
If the answer to any of those questions is yes, then COME … and you will find rest for your souls
This Balm for the Soul retreat is offered in the peaceful surroundings of The Margaret Aylward Centre, a natural oasis and soul sanctuary at the heart of the city.
The day is designed to be a gentle space of rest, renewal, connection and community for all who come. There will be times of contemplative silence, music, art, poetry, sharing, storytelling and feasting and most of all time to allow the flowers and the trees, the birds and the bees to awaken our hearts and revive our parched souls.
The retreat will offer simple practices that can help in daily life to reduce stress, improve overall well-being and cultivate calm even in the midst of chaos.
Our deepest longing is that we will all return home at the end of the day refreshed, more deeply connected to ourselves and to one another and with open and spacious hearts ready and able to welcome all that life brings.
---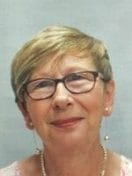 Maria Garvey: With a background in Transformational Leadership, Mindfulness Based Stress Reduction, Spiritual Accompaniment, Purpose Guiding and Trauma Informed Contemplative Healing Practices, over many years Maria has been accompanying individuals, groups and communities through transformational processes that reawaken people to their deepest purpose giving them access to new ways of being and fresh openings for action in their lives.
She's passionate about bringing the gifts in the margins to the centre and transforming stressful and bewildering transitions into openings for new life.
Maria is particularly committed to being a junior partner with nature in giving people access to the space and healing they need to flourish and shine. In more recent years she's been leading Women's Sharing Circles and Natural Wellbeing retreats for individuals and groups in the foothills of the Mourne mountains in Rostrevor Co. Down.